You are here
Cosmetology and Beauty Study Program Performed "The Secret of Wonderland"
Primary tabs
Submitted by

humas-ft

on Mon, 2020-12-14 09:24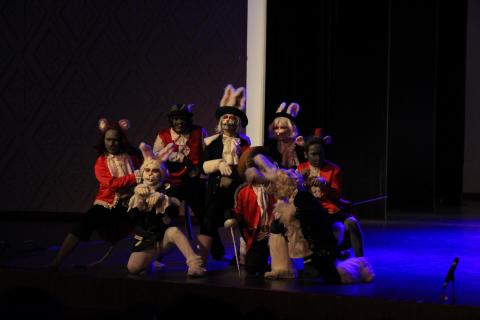 Cosmetology and Beauty Study Program 2017 Faculty of of Engineering Yogyakarta State University successfully held a Final Project Show with the title "The Secret of Wonderland" at the Performance Stage of FBS UNY (26/01) which was opened by the Dean of FT UNY, Prof. Herman Dwi Surjono, Ph.D. . Alice in Wonderland itself is one of the novels that has been famous from time to time. The story of Alice's adventures in a place called Wonderland tends to be eccentric and absurd, but that's what makes it interesting. The novel was first published in 1862 and has since captivated readers from various circles. In addition to the Alice in Wonderland story novels also made comics, films, to Japanese manga.
According to the Head of the Committee, Ninda Novianingsih, Alice in Wonderland itself has a lot of moral value that can certainly be used as valuable lessons such as about struggle, loyalty, and courage to face problems and conflicts. "In addition, there are also lessons about patience and messages about patriarchal culture delivered through Alice's struggle against injustice at that time".
Ninda explained that the final theater project presented cosmetology works including fantasy cosmetology, hair styling and matching costumes into a form of operatic theater show with the aim of introducing the public to cosmetology and beauty study programs.
There are a total of 33 figures featured in this performance with makeup techniques presented to strengthen the character's role and the character itself through a combination of traditional, modern and customized characters..
This performance is also run with a competition system to get the best makeup on the jury's choice and the audience's favorite makeup.
Contact us
Tata Rias dan Kecantikan - D4
Kompleks Fakultas Teknik Kampus Karangmalang, Yogyakarta, 55281